8 Passive Income Ideas to Increase Your Income this 2019
Let me start by putting this on record that you can't make passive income in the long-run without putting in any effort and being consistent with it.
Yes, you can surely make money while you sleep but it does not come without putting in any effort.
To be honest, I have always been fascinated by how I can make a passive income lifestyle and I still date look for new avenues to make passive income for myself.
Consider passive income is more like a residual income.
Right now, I have several passive income streams going on in my life, and I am still scanning new avenues to make new streams of passive income.
I generally treat Passive Income in 2 different categories, namely –
Generating Passive Income with Paid Investments – If you are someone who is not cut out for putting in a lot of effort and take the short-cut route, then you'll need some money for investments for you to start generating money.
Generating Passive Income with Zero Cost but with a lot of effort up-front – I generally belong in this category and I strongly believe putting in that extra hard-work takes you a long way! Yes, you will need to put in the work up-front, and it may be a lot of work and being consistent, will eventually lead a source of passive income in your lifestyle.
Note: Before I go ahead talking about a few of my recommended Passive Income ideas, I want to state that some of the links in this post are affiliate links and banners, and at no additional cost to you. I will earn a small commission if you decide to make a purchase. Please understand I have experience with all these companies and I recommend them because they are reliable and reputed. Plus, by using my affiliate links, you are helping me keep this blog up and running…and for that, I thank you!
Now moving on, let me give you 8 Passive Income Ideas to Increase Your Income this 2019.
Start to Invest in Cryptocurrencies
If you are planning to invest your money in the cryptocurrency, then 2019 could be a great year to do it.
But please be very careful and make sure you understand the risks.
Cryptocurrency markets are intrinsically very volatile.
This means that the value of your investments can change very quickly.
Of course, you can make a lot of money in a relatively short period compared to traditional financial markets.
But you can also lose everything very quickly.
Investments in cryptocurrency should always be considered as a high-risk, regardless of your confidence in your coin or token selection, and you should only invest money that you can afford to lose if the market turns against you.
Note of Caution: Cryptocurrencies are a much riskier investment as compared to traditional assets such as bonds and shares, given the sheer volatility of the market.
That said, you can have a run-down for one of my previously written article posts on 5 Best Cryptocurrencies to Invest in 2019
Invest in Gold
"Gold has long been seen as a safe asset class in difficult or uncertain times", according to Bloomberg
So, why you should start investing in Gold?
Well, in times of crisis, many investors turn to gold because it is considered to be a good diversifier and an enduring store of value.
Even Head of World's Largest Hedge Fund says 'Paradigm Shift' in Markets make Gold a Top Investment.
In times of uncertainty when the value of money is being depreciated and international conflicts are significant like the US and China trade war, the value of Gold shall not be affected.
Unlike stocks and bonds, the price of gold tends to move in a different direction.
The price of gold depends solely on demand and supply.
All thanks to the emerging Asian and the Middle East economies have resulted in a surge in demand for gold, especially people buying a lot of gold ornaments.
If you are serious about investing in gold, then you can fill out this form to Request Your Free Gold Investment Kit
Start Your Blogging Business
Blogging has become ever more popular in the digital world today.
It is a great avenue for earning revenue on regular basis but the thing is, making your blog successful doesn't come easy because you need to implement the right techniques and strategies to get your blog to be a success.
Yes, it does require a lot of content posting to grow your blog, and this may take anywhere from months to a few years.
But trust me at the end of the day it will be very rewarding.
Pro Tip: Blogging requires consistency. You need to keep updating your blog with fresh unique content post every week which your readers will like to go through. Check out the Blogging Tips that Will Make Your Blog Successful and Six Best Tips for Blogging for Beginners 2019
Once you have your blog all going you can start to monetize it.
For start, you can join up with some Ad Networks.
Ad Networks are the simplest and most used method of making money from blogging.
You will need to have a blog if you want to be approved on Ad networks.
These networks show ads automatically based on the context of your content and also based on the interest of the user.
I have written an article about this in one of my previous article posts on How to Make Money Blogging (the Definitive Guide for 2019)
Get Started with Affiliate Marketing
Affiliate Marketing is one of the most common ways of making money online.
Affiliate Marketing is a straightforward method of earning commission by promoting a product on your website or social media page.
In other words, you earn by promoting a company or a person's product.
It's an easy way to earn passive income.
Just sign up for a program, put-in the links of the product on your site or social media page and watch your income grow from the purchases through your links.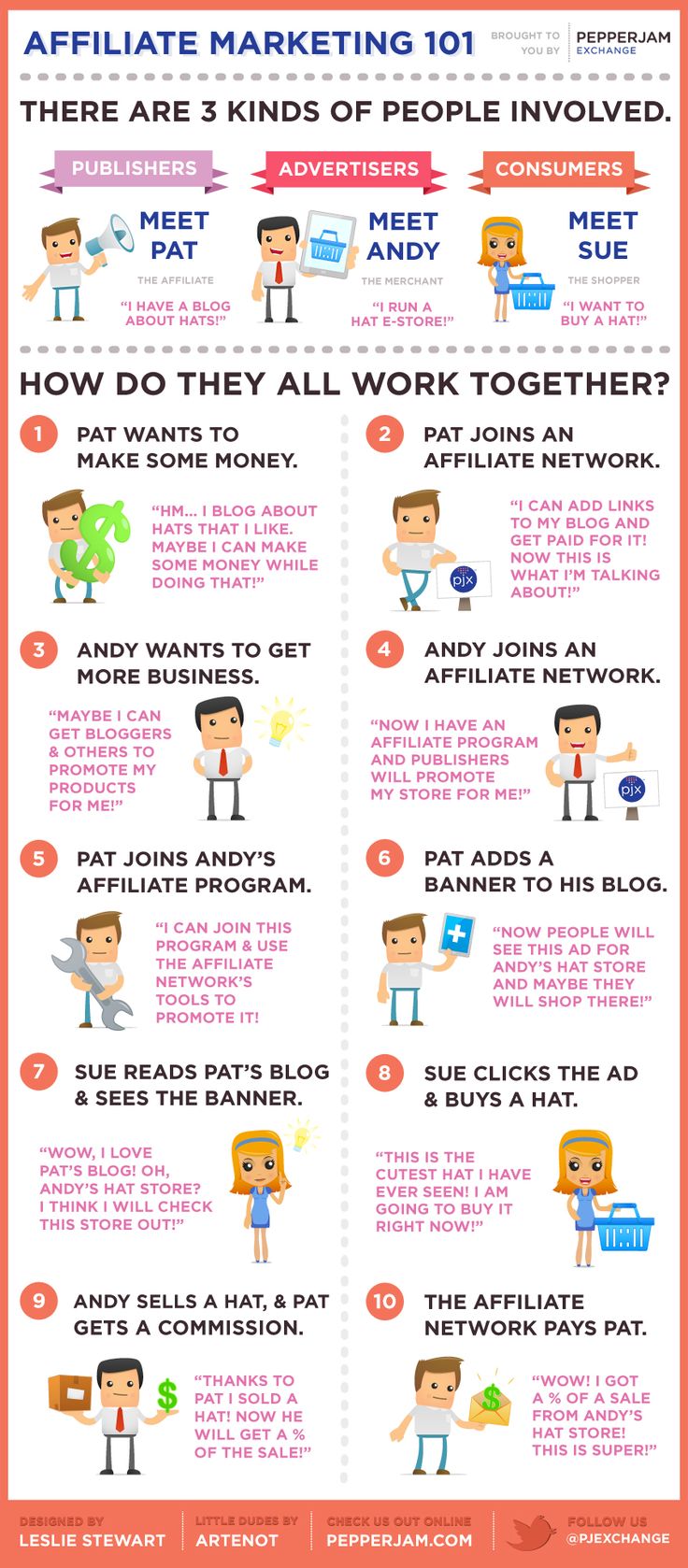 So many people like and enjoy affiliate marketing because of the following reasons:
they do not have to create a product
they do not have to stress and put in the man-hours
It's easier to promote affiliate products and make sales then to handle everything else that goes along with product creation
Affiliate marketing has proved to be cost-efficient, a measurable method of delivering long term results.
Research points to this method of marketing will be an industry trend for the future.
I like to select affiliate programs which I like and the ones which I have tested before.
To be successful in any affiliate marketing business it's very important for you as an affiliate to first try out and test the affiliate program.
And for me referring a good affiliate product to my referrals is a win-win situation because at the end of the day they are going to be happy with the results.
Pro Tip: I recommend joining directly with the affiliate merchants, instead of joining third party affiliate networks promoting other affiliate merchant offers.
Below, are my Top 5 Best Affiliate Programs which you should try out this 2019 –
If you are more of a Travel person, then you may wish to check out my post on Top 5 Affiliate Programs for Travel Bloggers 2019
Start Hosting Your Home on Airbnb
If you have a spare room to rent or an entire apartment for rent then head over to Airbnb and start listing out your place to short term travelers.
Airbnb connects those with space to rent to those looking for a place to stay.
As a host with Airbnb, you could be making anywhere between $500 to $3000+ a month residual.
Listing your property on Airbnb is very simple!
You just need to take some good authentic pictures of your room/studio apartment, nightly listing price, a good description of the property, amenities such as breakfast, host language, and parking facilities.
One of the best things about running an Airbnb business is that travelers prefer Airbnb to hotels, motels, or hostels.
Click here to Become An Airbnb Host Today!
Airbnb also offers a referral program for its affiliates.
You can earn $15 for each host you refer to place a listing with Airbnb.
You even have an option to create your own deep linking.
A few highlights to take away from here –
Easy to share a referral link as an Airbnb user.
A well-known name in the travel industry.
Good for travel income.
You may also wish to try out their Airbnb app on your Android or iOS phone platform. It's convenient to use and very simplified.
Click here to Become an Airbnb Host and Refer Others to be Hosts.
Become a Freelancer
Do you have a specific skill set which you would like to take up as a full-time profession?
If you are a programmer, writer, marketer, accountant, teacher or an administrative assistant, you can offer your services to people around the world or even get employed online.
Then you should seriously think about becoming a freelancer and start selling your services to your customers who are looking to outsource.
A freelancer is someone who offers their services for a fee and has the autonomy of working independently.
Yes, when you do a freelancing work for your clients, you need to adhere to a specific deadline.
There are several reasons to start freelancing.
It's a great way to make some side-money or treat it like a full-time profession.
Starting a freelancing business does not require any start-up costs if you already have the right skills and equipment to do the job.
You can straight head over to Fiverr and start listing your services to your potential customers.
You can charge them anywhere between $5 to $200 depending upon the complex nature of your work.
Note: Make sure to offer quality work in order to earn respect and a good review feedback from your buyers/clients.
If you don't have the right skill sets, then you could always take an online professional course to become an expert on it.
Learn from Fiverr does offer Certified Courses for Freelancers.
Related Article: Learn from Fiverr: Certified Courses for Freelancers
Take Part in Opinion Poll Surveys
One of the easiest ways to earn money is to fill out online surveys in your free time.
Companies are in constant search for people to answer surveys to evaluate their products.
Your inputs are important because they help researchers on improving products and service.
Note: You must qualify to be able to answer surveys.
Here are a few reputed survey sites I highly recommend you to join –
To be honest, I am not a big fan of doing online survey as it can be very time consuming and requires a lot of patience.
Quick Tip: Sign-up with all the above mentioned survey sites, then only you are increasing your chances of making real money.
Joining these survey panels does not only mean you will be filling out boring survey forms but can also mean watching a quick video, completing a quick task like registering for a site for free, and listening to music.
And finally,
Become a YouTuber
If you are not a camera-shy person and then you should think about becoming a YouTuber.
Some people made millions in creating their own original YouTube videos. The videos usually feature doing things what they love to do.
Creating an account with YouTube is free, and you can start uploading videos in no time.
Once you have a certain number of views and subscribers, you will be ready to go.
Related Post: 6 YouTube Money Making Tips: Great Ways to Make Money with Your Videos
To Conclude…
You could always start off making passive income without any upfront capital or cost.
Creating a passive income is not an overnight journey!
They require hard work, consistency, and may take a few years of dedicated effort to build.
Select one or two streams of passive income from the list which you would like to focus on.
"Do what you have to do, so you can do what you want to do later." Denzel Washington
I hope you enjoyed reading my blog post.
Let me know your thoughts or suggestions in the comments below.
And if you liked it, Share it!