How to Make Money with Affiliate Marketing 2019 (A Definitive Guide)
Affiliate Marketing is one of the most common methods of making money online.
It's also one of the best ways to make money blogging.
A study has even shown that affiliate marketing is the most common way that bloggers use to make money.
This is why a lot of people are getting into affiliate marketing in recent times.
Before I continue, you may wish to check out a few of my selected affiliate marketing articles which I have posted previously on my blog –
What is Affiliate Marketing?
Affiliate marketing is the process in which an online retailer pays you commission for sales or traffic obtained from your referrals.
This means that you shall be advertising another party's product in return for a commission.
So whenever one of your audience clicks on the referral link to purchase a product, you will get a commission.
To make you better understand, here is a video explaining about Affiliate Marketing in Plain Simple English for Beginners by Project Life Mastery –
Affiliate marketing is also considered to be one of the oldest methods of marketing.
Affiliate marketing is so common that a lot of people are using it without even realizing it.
For instance, on some occasions, you might decide to share a discount code or a link to a website or goods for your family and friends, and you shall be given a commission in return.
An organization will give commissions to one or more affiliates for each client or visitors they bring with their referral links.
How does Affiliate Marketing Work?
The main principle in which affiliate marketing is based on is purely on recommendations.
All you need to do is recommend the other's party service or product and you get a commission or each customer or visitor you bring.
The commission will be given as a percentage of the sale that you help them to get, but it is possible that it could be made a fixed payment.
The payment can also be based on the number of leads you generate for them.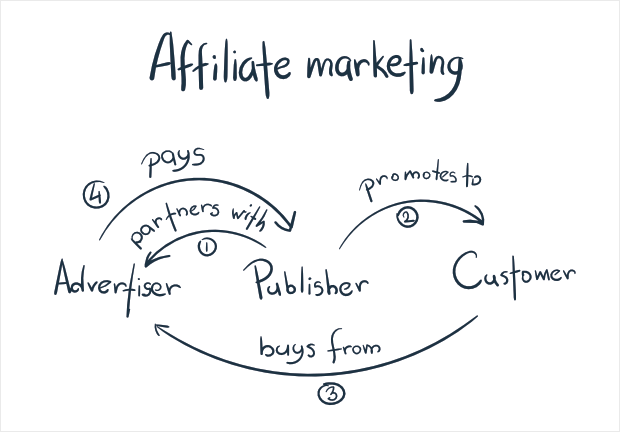 Basically, all you have to do is follow these steps;
Recommend a service or product to your audience
Wait for your audience to purchase the service or product using your affiliate link
Now you get your commissions for the sales or leads generated using your affiliate link
To start with your affiliate marketing, you will first need to find a company or product you want to advertise and make sure that it is the kind of product or service your audience will be interested in.
It is very important to choose the services or products that are relevant to your blog's niche and the ones that will interest your audience.
Once you have found a company to partner with, you will join and be given a unique affiliate ID.
After this, you will include the affiliate link of the services or products you want to promote in your blog.
So, how do you get started with Affiliate Marketing?
1. Finding the Right Product or Service
This is considered to be one of the most important factors to consider when you want to start an affiliate marketing program.
If you want to start with affiliate marketing, you will have to pick a product that will focus on your niche and will be able to help you with the content.
The success of your affiliate marketing program depends greatly on the type of products you choose.
Choosing the right products to promote shall also help you get more commissions irrespective of the niche you are focused on.
When you start off with an affiliate program, you will need to find the right product or service that will interest your target audience.
First of all, start by making a list of 20 to 30 of the websites that you are competing with.
After this, check the type of affiliate products that they are promoting on their website and make a list of all the affiliate products they promote on the website.
Pick the ones you think are suitable for your target audience.
Now all you have to do is look for effective ways to promote these products on your site so that your audience will click on the links.
2. Content Creation
Content is one of the most vital factors for developing a successful affiliate marketing program.
There are a lot of content types that you can use on your website to promote services and product to your audience.
Example of these content type include;
Webinars
Roundup posts
Product reviews
Articles
Video tutorials
Affiliate product comparisons
However, some affiliate marketing networks might require you to create your own content before you collect your affiliate link.
They might require you to have a certain amount of site traffic and monthly views before you are accepted into their affiliate program.
However, this does not necessarily mean that you have to create too many posts before you can become an affiliate marketer, you can just create 5 posts of good quality and put it on your site to start your affiliate program.
3. Develop Your Email List
Everyone knows that email is the best communication channel for marketing.
This is why it is very important that you grow your email list if you want your affiliate marketing program to be successful.
One of the best methods of growing your email list is by putting pop-ups on your site.
You may wish to try out MailChimp.
It's one of the most popular email service providers helping you to create lists to group a set of subscribers and having a very simplistic automation capability.
And, have I stressed how important it is to Win Over Your Subscribers by Your Welcome Email.
4. Register on an Affiliate Marketing Network
Online marketplaces often have a lot of retailers that list their services and products which makes it the perfect place for affiliates to find services and products to promote.
Affiliate networks are basically online marketplaces and they often act as the middleman between the retailer and the affiliate.
You will not have to pay to sign-up on an affiliate marketing network.
Some common examples of affiliate marketing networks include;
5. Tracking Your Results
There are tools that you can use to easily monitor the performance of your affiliate program.
One of these tools is the MonsterInSights which is used to monitor the results of an affiliate program on a WordPress website.
All you have to do is install and activate the plugin, and then link your Google Analytics account with your WordPress website.
With this, you will be able to monitor your affiliate links in a way that you can better see the performance of the products with your audience.
This shall help you find better products or services catering to your audience in the future.
And also, this data will help you provide your audience with a better content to increase loyalty and trust.
You may also wish to check out Clickmeter.
It records clicks of visitors from and inside a site and allows you to check real-time status along with information such as unique clicks or referring URL.
It helps in Data Collection and Tracking. Each time a link is clicked, the visitor will be redirected to the original page.
These details are shown in real-time! which is something that many other popular tracking tools do not offer.
To Conclude…
The above mentioned are a few of my recommended steps you should incorporate to start making money with affiliate marketing.
Sadly, many affiliate marketers do give up too soon with affiliate marketing and call it quits because they simply don't know how to go about it.
Affiliate marketing is truly a very attractive business and yes, it does require you to be consistent and be patient.
Let me know your thoughts or suggestions in the comments below.
And if you like it, Share it!
My name is Sujoy Mukherji. I am an Internet Marketer, Entrepreneur & Professional Blogger. Founder of the Affiliate Hub Blog.