GetResponse Email Marketing (A Definitive Review 2019)
Let me first start with the basics here on What is an Email Autoresponder?
Email Autoresponder plays a significant role in the success of an email marketing campaign.
It saves a lot of time by fully automating the method of communicating with your customers.
So, below let me share with you a cool Infographic –
What is GetResponse?
For those of you who don't know what is GetResponse, it's a feature-rich online marketing solution, fully scalable and capable of handling both small and very large lists (1 million+ subscribers).
For over 10 years, it has provided easy-to-use, self-service applications and expert support for creating and managing email marketing campaigns, newsletters, and autoresponders that convert contacts into customers.
Through responsible and fully automated list hygiene, anti-spam practices and established relationships with major Internet and email service providers, GetResponse has maintained the highest possible deliverability standards for over a decade, ensuring that our customers' messages deliver the highest possible return on their email marketing investment.
Now, let me move on to talking about the Features of Using GetResponse.
GetResponse Features
1. Choose from Over 300+ Industry Templates
GetResponse offers over 300 industry HTML templates to create eye-popping campaigns for every audience and industry.
You can use the intuitive editor to customize your email communications with cool graphics, fonts plus formatting, then brand with your company logos and colors.
2. Offers A/B Testing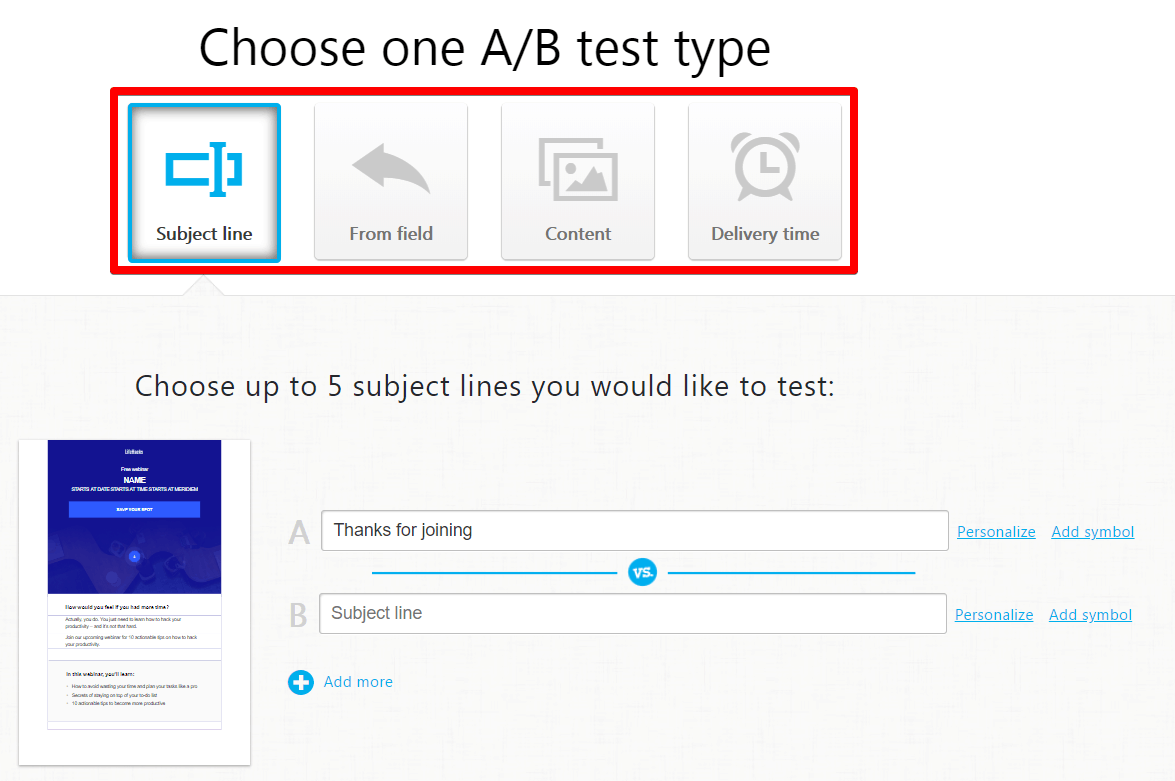 To ensure you get the best results from your email campaign, test it first!
You can create up to 5 messages, with different personalizations and techniques, subjects, and styles.
GetResponse will test each version for you, then automatically select and send the best! It takes only minutes and can save you cash − and lost customers!
3. GetResponse Email Analytics Tool
The GetResponse Email Analytics tool makes sure that every campaign you run is better performing than the last one.
Let GetResponse track every open, click, unsubscribe, and purchase. See the big picture with visual graphs, and get customized reports in your inbox daily.
Here, is a quick video guide on How GetResponse Email Analytics Tool works –
4. Guaranteed Deliverability
GetResponse applies over 10 years of expert human and automated system monitoring so your email marketing messages end up in prospect inboxes, not their junk folders.
From the automated list hygiene to the established ISP relationships and feedback loops, GetResponse ensures that your campaigns – and your brand – are always protected and compliant.
5. Social Media Integration
Millions of potential customers are getting their product "buzz" from social networks − and you need to be there!
GetResponse puts you in the middle of this non-stop conversation with point-and-click integration.
Let Facebook and Twitter deliver instant links to your latest campaigns, coupons, and blogs today!
To have an idea what I am trying to talk about here is a quick tutorial on How to Set-up Social Sharing Integration with GetResponse –
6. GetResponse Survey Feature
One thing which I really like about GetResponse is that it provides the user with an Online Survey Feature.
With GetResponse Surveys, research won't cost you a dime extra!
Ask as many questions as often as you want and get the data you need to improve products, target campaigns, and stay ahead of the competition!
It's a snap to use – just point and click to design, then publish and watch the results roll in.
7. GetResponse Mobile App Feature
GetResponse apps for iPhone and Android give you instant access to your dashboard and key stats, so you can react, anywhere, anytime.
Add subscribers manually or import from your address book and you'll never miss an opportunity to grow your list and your business!
8. Dedicated Coaching and Support Staff
You will be glad to learn that GetResponse provides an expert staff on hand 24 hours a day, 7 days a week to help you maximize your email marketing – and your profits.
You can get in touch with their staff via phone, email, or live chat. They are friendly and it's FREE!
When I say Coaching, GetResponse offers you a FREE 90 Days List Building Coaching Program.
Here's is the Downloadable Course Lessons Table of Contents.
And finally, you also get the…
9. GetResponse Enterprise Feature
GetResponse Enterprise is a fully standalone system, engineered to provide high-volume sending, superb reliability, and expert support at an affordable price.
Your enterprise-level service is hosted on a separate, high-end server with two dedicated IPs and is capable of sending up to 1,000,000 messages in a 24-hour period.
The system is managed automatically based on our advanced "send-and-delivery" GetResponse analytics, and monitored by a team of enterprise delivery experts.
To Conclude…
GetResponse is a complete online marketing solution.
It provides a turnkey newsletter publishing and hosting features, as well as unlimited follow-up autoresponders, landing pages, webinars, marketing automation, and CRM to deliver information to your contacts and convert them to paying customers.
From the moment you sign-up for an account with GetResponse, you will be supported every step of the way by their excellent customer support and materials (context help, user guides, FAQs, and video tutorials).
You will benefit from industry-leading email deliverability which GetResponse consistently maintains through their solid relationships with ISPs, proactive delivery initiatives, and strong anti-spam commitment.
Try GetResponse today and find out how you can instantly get tangible, measurable results without wasting your time or investing a lot of money!
If you like this article, please share it.
If you have a comment, please leave it below.