The Complete Guide To Earning Money As An Affiliate Marketer This 2020
Are you looking for ways to make money with Affiliate Marketing this 2020?
In this post, I shall be giving you a complete guide to earning money as an affiliate marketer this 2020.
So, let me first start with the basics of Affiliate Marketing.
What is Affiliate Marketing?
Affiliate Marketer is the process in which an online retailer pays you commission for sales.
This means you shall be advertising another party's product in return for a commission.
So whenever one of your audience clicks on your referral link to purchase a product, you will get a commission.
You earn a commission for every successful sale you make.
It's one of the best ways to make a passive income living.
Affiliate marketing is a billion-dollar industry.
Many companies, especially big brands, like Airbnb, Bookings.com, Alibaba (the e-commerce giant), GoDaddy, etc. are implementing affiliate marketing as a strategy to generate more ROI (Return On Investment).
Today affiliate marketing accounts for around 16 percent of all e-commerce sales. And, by the year 2020, it shall reach a whopping $6.8 billion mark.
If you look at the chart below, you can have an idea at how affiliate marketing spend has increased over the years –
What Makes Affiliate Marketing Special?
So many people like and enjoy affiliate marketing because of the following reasons –
they do not have to waste time creating a product of their own to sell.
they do not have to stress and put in the man-hours
it's easier to promote (as an affiliate) affiliate products and make sales then to handle everything else that goes along with product creation.
Especially, if you a blogger like me, affiliate marketing is a great way to monetize your blog.
A study has shown that affiliate marketing is the most common way that bloggers use to make money.
You see, if you have a steady flow of targeted organic traffic to your blog, it's the most convenient way to promote targeted affiliate offers to your audience.
It's no surprise that 57% of bloggers who make $50k plus per year from their blogs consider affiliate marketing as their prime source of monetizing their blog and making some serious money out of it.
Resource Article: Earn Money with these 6 Affiliate Programs for Bloggers
The Affiliate Marketing Working Model
Affiliate Marketing follows the simple model structure of people recommending a product to their network.
It's purely based on recommendations.
The three parties involved in the affiliate marketing working model are –
Publisher
Advertiser
Customer
Let's take a look at the below infographic example which I have crafted for you to better understand.
At this point, you know the three main types of parties involved in the affiliate marketing process.
As an Affiliate (Publisher), all you have to do is follow these steps:
Recommend a service or product to your audience
Wait for your audience to purchase the service or product using your affiliate link
Now you get your commissions for the sales generated using your affiliate link
It's very important to find the right type of affiliate network to join and select the right affiliate products suited for your target audience.
Why be an Affiliate Marketer?
Affiliate marketing has proved to be a cost-efficient, measurable method of delivering long-term results.
Research points to this method of marketing will be the industry trend.
So, why Affiliate Marketing?
Well, to start with you don't have to create the product yourself.
You as an affiliate can start promoting immediately by selecting a lucrative niche affiliate offer.
Why you should consider being an Affiliate Marketer?
Here are a few convincing reasons you should take into account before considering being an affiliate marketer –
It's Free of Cost: Yes, you heard me right! Affiliate marketing involves zero investment. You are simply promoting someone else's product online, and you don't need to hire anyone to have a physical setup.
No Customer Support: You being an affiliate don't have to worry about handing any customer support since you are not the product creator.
No Shipping or Storage: This is certainly not your headache because all this would be handled by the seller if required (if it's a physical product).
Passive Income: If you have a normal daytime job, you have a fixed income earning. Whereas, in affiliate marketing the earning potential is limitless and you can earn while you sleep!
Flexible Work Environment: If you are consistently earning with affiliate marketing, you would have no need to go to work every day. You have the option to work from home.
Global Market Arena: You can reach a lot of people around the world and earn from affiliate marketing.
How Much You Can Earn With Affiliate Marketing?
This is probably one of the most frequently asked questions on the internet.
A lot of people I have come across want to know if there is a lot of money to be made from affiliate marketing?
The main focus here is how much money can you make as an affiliate marketer?
Realistically speaking, you can make a lot of money from affiliate marketing to pay up for your bills and still be in a position to establish a business.
Being an affiliate marketer is probably the most low-risk and legal way to earn money on the internet.
To tell you the truth, there are a lot of affiliates making a good earning online from affiliate marketing, so why not you?
You would be surprised to know that some affiliate marketers currently earn above $2 million annually and there are others who take home hundreds of thousands of dollars by doing affiliate marketing.
Resource Article: Top 10 Affiliate Marketers & Their Affiliate Blogs You Should Know In 2019
Moving on, let me give you the Complete Guide to Earning Money as an Affiliate Marketer this 2020.
1. Do Your Research
Before you make up your mind to promote any affiliate offer, it's important for you to do some sort of research.
I call this step as creating your own Buyer Persona.
Do a bit of research about your target audience before you decide to promote any affiliate offer.
The following criteria should be taken into account –
What are you trying to achieve by promoting your affiliate offer?
Who are your target markets (age group, occupation, etc.)
What solutions you can provide to the end-user with your affiliate offer?
Unique Selling Proposition (USP) of your affiliate offer, i.e. how will your affiliate offer stand out compared to other affiliate offers, what will make your affiliate offer be unique, will your affiliate product offer coaching, live webinars, etc.
Can your affiliate offer provide the services and solutions to the end-user as promised?
Pricing, i.e. will your affiliate product be expensive for the end-user to purchase or economical, does your affiliate product offer a monthly payment benefit, trial offers, etc.
2. Find Your Niche
Finding the right niche is one of the most important critical factors when starting out with affiliate marketing.
You need to pick a product that will be well suited for your target audience.
Choosing the right product niche helps you to generate better commissions.
Say, if you run a blog that is targeting the health and fitness niche, then you should target affiliate products related to that niche.
Here are a few proven strategies for selecting the right affiliate niche –
Make a list of 10-20 websites/blogs that similar to your niche
Check the type of affiliate offers they are promoting in the website and make a list of all those affiliate products (you can maintain an excel sheet to keep a track)
Pick the ones you think are suitable for your target audience
Now you can start promoting these affiliate offers in the form of banner ads, content marketing, or via email marketing.
3. Recommend NOT Sell
What do I mean by this?
Well, your job as an affiliate marketer is to recommend people to an affiliate offer which you feel shall provide value to them.
Don't go by a push-style sale or some sort of hard selling.
Remember, your audience is smart and they will instantly come to know about it.
I highly recommend you to write a product review about the offer which you want to promote with great content.
Don't just direct them to a sales page for the sake of making an affiliate commission!
4. Invest in a Few Marketing Tools
There's a say, "To Make Money, You Need to Invest Money."
In order for you to be a successful affiliate marketer, you need to set-up your affiliate marketing business properly.
Resource Article: 5 Tips to Becoming a Super Affiliate Marketer
You should be ready to invest in a few marketing tools, such as keyword research tools, email autoresponders (for email marketing), and so on.
I personally, like to use the following tools to promote my affiliate offers –
5. Work on that Content
If you are running a blog like me, I can't stress how important it is to create good content to promote your affiliate offers.
There are a lot of content types that you can use on your website to promote services and products to your audience.
Example of these content type include;
Webinars
Roundup posts
Product reviews
Articles
Video tutorials
Affiliate product comparisons
Having good content helps you to drive a lot of organic traffic to your site or blog.
Note: Some affiliate marketing networks require you to have a certain amount of site traffic monthly views before you can be accepted to join their affiliate network.
Being consistent with your content (blog posts) is the key to generating good organic traffic.
6. Create Your Own Email List
Having an email list in place is very important for you to promote your affiliate offers.
If you are building an audience, maintaining an email list is one of the best ways to build a community around your business.
Resource Article: Email Marketing for Beginners: How to Get Email Subscribers Fast in 2019
In 2019, nearly 300 billion emails are sent daily.
A good way to grow your email list is by placing pop-ups on your site.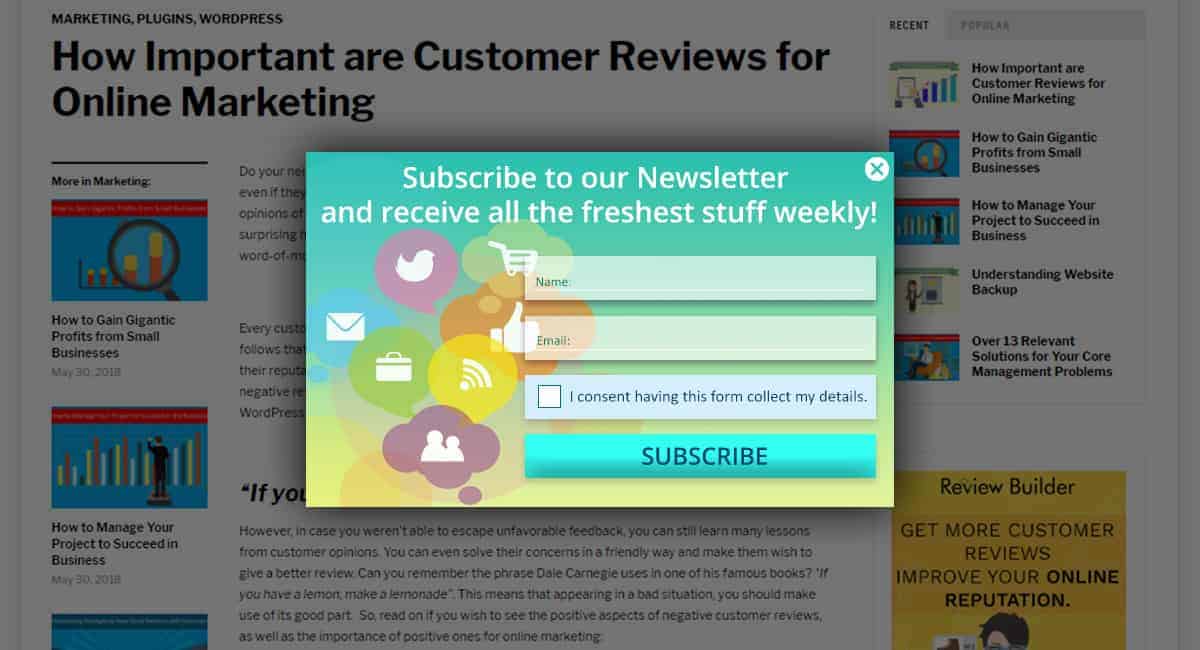 I would recommend GetResponse.
For those of you who don't know what is GetResponse, it's a feature-rich online marketing solution, fully scalable and capable of handling both small and very large lists (1 million+ subscribers).
You may wish to check one of my previous posts on GetResponse Email Marketing (A Definitive Review 2019).
7. Register with Reputed Affiliate Marketing Networks
There are many affiliate networks out there who partner with top reputed merchants.
This makes it the perfect opportunity for you as an affiliate to find top affiliate offers to promote.
Affiliate networks are basically online marketplaces and they often act as the middleman between the retailer and the affiliate.
They help retailers list their products and affiliates can find products to seel.
The best part about joining these affiliate networks is that it's completely FREE to join.
Here are a few of the most popular affiliate networks out there, namely –
You can join more and it all comes down to what affiliate network suits you the best.
Resource Article: Why Amazon Affiliate? Top 4 Benefits to Join Amazon Affiliate Program
8. Have an Opt-in Page in Place
The best way to increase your affiliate earnings would be to create an Opt-in page.
Your opt-in page should look attractive, catchy and appealing for your visitors to register for free, like filling in details of their name and their email address.
I recommend giving your new subscribers with instant access to a FREE downloadable ebook.
Ensure the ebook provides value and also make sure to insert the affiliate links when citing resource content in the ebook.
Resource Article: Creating and Publishing Your eBook (A Definitive Guide for Beginners 2019)
9. Use the Power of Social Media
I always felt that social media and affiliate marketing go hand-in-hand.
With social media, you can build a large fan base and followers.
Resource Article: Influencer Marketing for Effective Branding Content
By achieving this, you can easily promote any affiliate offer and make a lot of affiliate commissions.
Your social media audience will trust you more because they see you as a real person and not just a stranger behind a computer screen
The fastest way to promote your affiliate offers is with Instagram.
I have posted a video below to help you understand how you can make $200 per day using Instagram Marketing.
Finally,
10. Track Your Results
There are tools that you can use to easily monitor the performance of your affiliate program.
One of these tools is the MonsterInSights which is used to monitor the results of an affiliate program on a WordPress website.
All you have to do is install and activate the plugin, and then link your Google Analytics account with your WordPress website.
With this, you will be able to monitor your affiliate links in a way that you can better see the performance of the products with your audience.
You may also wish to check out Clickmeter.
It records clicks of visitors from and inside a site and allows you to check real-time status along with information such as unique clicks or referring URL.
It helps in Data Collection and Tracking. Each time a link is clicked, the visitor will be redirected to the original page.
These details are shown in real-time! which is something that many other popular tracking tools do not offer.
To Wrap Up…
I hope by now you have had a good insight into earning money as an affiliate marketer this 2020.
It all comes down to implementing the right affiliate marketing strategies.
Sadly, many affiliate marketers do give up too soon with affiliate marketing and call it quits because they simply don't know how to go about it.
Affiliate marketing is truly a very attractive business and yes, it does require you to be consistent and be patient.
Over to you!
Let me know your thoughts or suggestions in the comments below.
And if you liked it, Share it!
My name is Sujoy Mukherji. I am an Internet Marketer, Entrepreneur & Professional Blogger. Founder of the Affiliate Hub Blog.